by Dennis & Mai Spencer | March 12th, 2013
JESUS IN VIETNAM MINISTRIES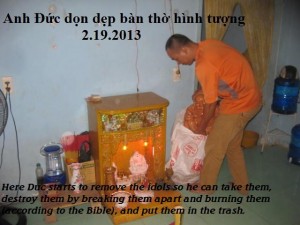 REMOVAL OF IDOLS
Mr. and Mrs. Ba Quang's son (Duc) and his wife (Hien) from Saigon traveled to Suoi Bang to visit them for the new year. They attended church on Sunday, February 10th, and afterwards, Elder Nhan was able to share the Gospel with them. Praise God as both Duc and Hien prayed to receive Jesus as their Lord and Savior. About a week later Elder Nhan and Mr. Ba Quang went to Saigon to visit Duc and Hien and answer any questions they might have about their decision. While there, Elder Nhan noticed Duc's house was full of idols. Elder Nhan returned the next day and asked Duc if he could share with him what God says about idols in the Bible. Duc agreed, and as Elder Nhan read scripture, God opened Duc's eyes and heart to the truth. Duc asked Elder Nhan to remove the idols, but Elder Nhan stated that only Duc could. After praying together to rebuke satan's work in this family's life through idol worship, Duc (picture above), took all the idols down, broke them apart, burned them, and threw them in the trash. Cam On Chua! We just received news that a local church is now holding Bible studies at Duc's house.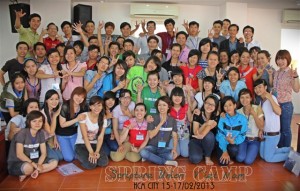 YOUTH BIBLE CAMP
The Binh Chau church high school youths who attended the recent Youth Camp in Saigon (picture above) came back all excited about what they had learned, especially the 4 (Khanh, Ky, Minh Anh, Hieu) who stayed the extra 2 days for leadership training. They were taught how to serve in the church teaching the little ones and middle school children. We thank each of you again who prayed for and financially supported these young men and women to attend this camp. Please pray that God will use this group, not only to serve in the Binh Chau church, but to be bold in sharing the love of Jesus to their relatives, friends, neighbors, and classmates all for God's glory.
SUOI BANG UPDATE
The house church has completed their first month of Sunday Worship with the Ba Quang family of 6 and one other family of 3 attending, plus a few visitors from the Binh Chau church. One other couple stated they will attend after the harvest season is over. These families of farmers usually work 7days a week from sun up to sunset. The Binh Chau leadership, along with Mr. and Mrs. Ba Quang, make home visits once a week (sometimes going to the fields to meet them) with the known Christian families in the area. We need to move slowly trusting in God to build His church here one family at a time.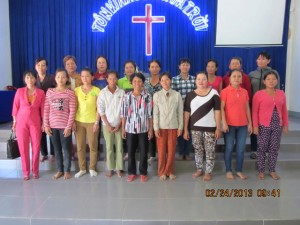 WOMEN IN THE CHURCH
We have been working with the Binh Chau church leadership on how we can help the ladies in the church grow in their walk with the Lord, develop deeper family relationships, build a stronger bond with each other, and develop a desire to serve in the church. We are excited to announce a 3 year program for the ladies that will start this March 11-13. Every 3 months, a Women's Ministry from Saigon, led by a Presbyterian pastor's wife and Phuoc's (Elder Nhan's wife) mother will conduct classes for 3 days at the Binh Chau church. They will teach on "How to become a Child of God", "How to be a Woman Serving in the Church", "How to be a Wife", and "How to be a Mother". This Women's Ministry teaches these classes throughout the year in different churches in Vietnam where there is a need. We are more excited to let you know that 22 ladies (some pictured above center) from the Binh Chau church have already signed up for the classes. Plus, the church in Binh Thuan (who puts on the Youth Camps) is sending 3 of their women in leadership to participate in the classes. This is quite a commitment from these women as many can't afford to miss 3 days of work. Please pray that all the women who signed up will be able to attend and God will provide the needs for their families during this time. "but a woman who fears the Lord is to be praised." Proverbs 31:30b
PRAYER REQUESTS
Please pray that God will open the door and provide the funds for another building to be built on the church property to meet the physical and spiritual needs of so many hurting children. We praise God as He has already provided 41% of the funding!
Please pray that God's protection will be on Mr. and Mrs. Ba Quang as they open their home to Sunday Worship services.
Please pray for Godly wisdom for Elder Nhan, Elder Tu, Kim, Lam, and Mr. and Mrs. Nhan as they serve Him.
Please pray that God will break the cycle of people in Binh Chau and Suoi Bang working 7 days a week with no time for church.
Please pray God's protection will be on Duc and Hien (and others) who are obedient to His Word to destroy the idols in their homes.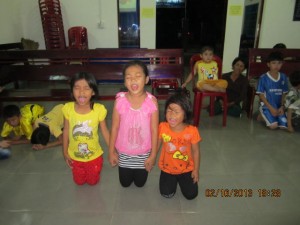 PRAISE REPORT
We thank God for raising up a new generation to worship and serve Him. We know your heart will be as touched as ours was with the picture above of Giang, Mai Thi, and Binh An kneeling, with eyes closed and hands held, to worship God in song at Children's Church.
Thank you, Jesus, for allowing us to be a part of touching one small heart at a time for you.