by Dennis & Mai Spencer | February 19th, 2013
JESUS IN VIETNAM MINISTRIES
SPREADING THE LOVE OF JESUS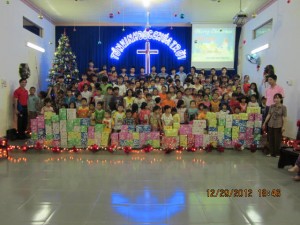 We want to thank each of you who gave a love offering to purchase Christmas gifts for the children in the Binh Chau church and many non-believing children who came to the Christmas Outreach. We asked our church kids what they wanted and most said they needed more clothes. We purchased clothes for them, but due to your overwhelming generosity, we were able to purchase toys, candy, and even a couple of bikes. Mai and some of the ladies in the church wrapped all the presents and put them under the Christmas tree in the church while Mai was still in Binh Chau. Our plan was to give them out at the Christmas Outreach, but could not because ……… attended the outreach. So the gifts were given to the children a few days later at Children's Church (picture above). Those who were not able to attend Children's Church had their gifts delivered to their homes. We were able to give gifts to 122 children, including the children and grandchildren of the neighbors around the church. One neighbor lady, who is the most negative of the church, even attended Children's Church with her grandchildren.
CHRISTMAS OUTREACH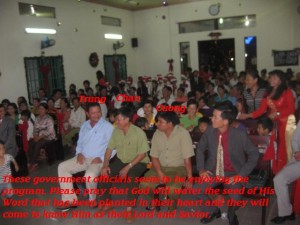 The Christmas Outreach was a blessed event in the life of the Binh Chau church. 250 people attended (picture above), including 3 government officials. They were all blessed by the performance of the Singing Ministry from Saigon and different choirs from the Binh Chau church. Pastor Minh Thuan (associated with the ministry from Saigon), anointed by the Holy Spirit, shared with all the greatest gift God has given us in that of His Son, Jesus.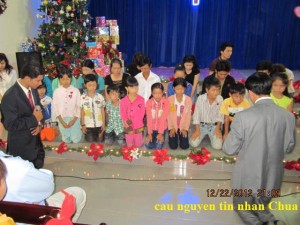 After sharing the true meaning of Christmas, an altar call was given and 18 people came forward and Elder Nhan led them in prayer to ask Jesus into their heart as their personal Lord and Savior (picture above). We thank God for drawing so many people to the Christmas Outreach and opening the eyes of those who asked Jesus to come into their heart.
We thank God for the rest who heard God's Word and pray God will send people to water it so they might also know of and experience His love and mercy (especially Caesar). We thank each of you who prayed and financially supported Jesus in Vietnam Ministries so we could hold this year's Christmas Outreach. Many heard the Gospel for the first time and we stand firm on God's Word: "So is my Word that goes out from my mouth: it will not return to me empty, but will accomplish what I desire and achieve the purpose for which I sent it." Isaiah 55:11.
PRAISE THE LORD!
Mr. Thong (father of Hien who had the brain injury and part of his skull removed 2 years ago) was out fishing when his nets became entangled with the nets from another boat. The young men on the other boat became very upset, cursed Mr. Thong, reeled in all of his nets, and took off. When Mr. Thong got back to Binh Chau, he called Elder Nhan and explained what had happened. Mr. Thong stated he felt this had happened because he had been disobedient to God in not taking down all the idol altars in his house. He had taken them down in his main house, but not in a smaller house he also owned. He told Elder Nhan he had just prayed to ask God to forgive him and restore the nets that had been taken from him. He also told God he would be obedient by asking the church to take the idols down. Elder Nhan got the church leaders together (along with Mai as she was still there) and they headed over to Mr. Thong's house to pray with Mr. Thong and show him in God's Word what he should do about taking his idols down. When they all arrived at Mr. Thong's house, Mr. Thong was smiling with such joy. One of the men that took his nets had just called, apologized, and brought all 5 sets of Mr. Thong's nets back to Mr. Thong's boat.
What an amazing God we serve! May Mr. Thong be a good witness to others how God rewarded his obedience. Deuteronomy 7:5
PRAYER REQUESTS
Please pray that God will open the door and provide the funds for another building to be built on the church property to meet the physical and spiritual needs of so many hurting children.
Please pray that God will open the door for house churches to be planted in S.B. and T.T.
in His perfect timing.
Please pray for all those that accepted Jesus at the Christmas Outreach that God will give them a hunger and thirst to know Him.
MINISTRY NOTES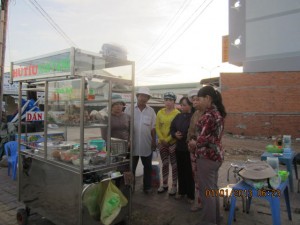 Hue (picture above) is now serving soup in the food cart the church is loaning her. Reports are she is running out early each day and needing to increase the amount she is making. The church choose Hue because she serves in the kitchen cooking for the children, her kids are faithful in attending church, and she has the ability/desire to succeed. We wanted to select someone who would be a good example for others to follow in this endeavor.
WORDS OF ENCOURAGEMENT
6 government officials visited the church before the Christmas Outreach and gave them a fruit basket. They encouraged the church to teach the children to help one another, get along with one another, and serve the community well.