by Dennis & Mai Spencer | November 28th, 2012
JESUS IN VIETNAM MINISTRIES
 GOD'S GRACE AND COMPASSION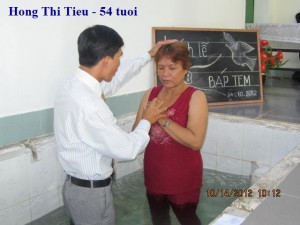 Last month Elder Nhan had the privilege and honor of baptizing 21 people in the Binh Chau church. These were all new Christians who accepted Jesus as their Lord and Savior in the last few months. The youngest baptized was 3 years old (infant baptism) and the oldest was 75 years old. The picture above shows Elder Nhan baptizing Mrs. Ba Quang from Suoi Bang. A couple of years ago Mr. and Mrs. Ba Quang separated due to Mr. Ba Quang being abusive to her when he drank. Mr. Ba Quang later accepted Jesus and Mai went to visit him to pray for him. One of the things Mai asked God to do was restore Mr. and Mrs. Ba Quang's marriage. Afterwards, Mr. Ba Quang told Mai she could pray anything for him, but don't pray for God to bring his wife back because he didn't want her to come back. However, our gracious God had the final say. He did restore their marriage, Mr. Ba Quang stopped drinking, and Mrs. Ba Quang accepted Jesus during last summer's VBS.
We thank God, that through your prayers and financial support, He allows us to minister to couples like these all for His glory.
 OPEN DOORS – OPEN HEARTS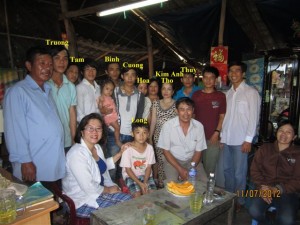 Teo, our nephew, and his wife Huelive in Binh Chau. Their son, Khanh, plays the keyboard in the church. Khanh's aunt (on his mother's side) came to Binh Chau from Saigon to visit and see about opening a small factory there to produce flour for making cakes and sweet goods. They have a factory in Saigonand are looking to expand. The aunt, Kim Anh, came to the church looking for Khanh. Mai was there, and to no surprise, shared the Gospel with her. Kim Anh prayed to ask Jesus into her heart. Kim Anh then asked Mai to come over to Teo's house and share the Gospel with her husband. When  Mai and the church leadership arrived at Teo's house, not only was Kim Anh's husband, Thuy, there, but also their son and 5 young people they brought with them from Saigon. Mai was able to share the Gospel and all 7 people (picture above) prayed to receive Jesus. Praise the Lord! They were all Buddhists and said they have never heard anything like the Gospel before. Mai said they were all very gentle and humble in spirit. They told Mai, in their factory inSaigon, they make flour to produce soy products for vegetarian monks in the temples and now they have accepted Jesus! They asked Mai to come toSaigon and share the Gospel with their "big aunt", the family head of the factory.  All came to church Thursday night.
 MINISTRY NOTES
Please be in prayer for Mai and the church leadership as they prepare for 24 hours of fasting, prayer, worship, and Bible teaching in the Binh Chau church. This will start this Sunday at7pmand finish on Monday at7pm. They have invited as many of the congregation that can to join them in praising the Lord. Every hour they will have 15 minutes of prayer/worship, followed by 30 minutes of Bible teaching, and then a 15 minute break. Elder Nhan, Elder Tu, and Mai will be take turns conducting the Bible studies each hour.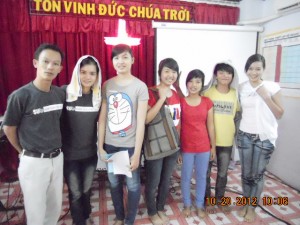 Some of the high school youth (picture above) continue to go toSaigoneach month for 2 days of intense Bible study with a house church there. Youth leaders in that church helped teach at the Binh Chau VBS last summer. The kids love it and come back "on fire" for the Lord.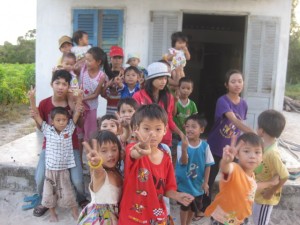 The high school youth continue to go out each Sunday afternoon to visit and share the Gospel. The picture above shows Hieu, Huyen, and Hoa with a group of kids in Tan Thang. They went with Elder Nhan to Tan Thang to visit our church family there and to fellowship with the many kids from the neighborhood. Please pray God will open the door for His Word to be taught in Tan Thang
 PRAYER REQUESTS
Please pray that God will open the door for an orphanage to be built on the church property to meet the physical and spiritual needs of so many hurting children.
 Please pray that God will provide the funds to construct another building to be used for classrooms now and dorms for the orphanage in the future.
Please pray that God will grant Mai wisdom and discernment in working with the Binh Chau church when she returns toVietnam later this month.
 Please pray that God will open the door for house churches to be planted in S.B. and T.T. in His perfect timing.
 Please pray that God will grant Mai favor as she meets with a contractor to reviews the plans for the orphanage next Tuesday (11/13).
 Please pray for Phuc's (Elder Nhan's wife) father. He had a stroke a few weeks ago, fell recently, and is back in the hospital inSaigon.
 "How can we thank God enough for you in return for all the joy we have in the presence of our God because of you."   1 Thes 3: 9